Placeholder for mobile shadow
What is Plan International?
Plan International is an independent global organization that advances children's rights and equality for girls. We support children's rights from birth until adulthood and enable children to prepare for – and respond to – crises and adversity.
We aim not only to improve the daily lives of girls but also to advance their position and value in society while actively working with boys and young men to champion gender equality.
For over 80 years, we have been building powerful partnerships and are now active in over 75 countries.
Learn more about us.
What is Plan International Canada?
Plan International Canada is part of Plan International. Funds raised in Canada and worldwide are used to support rights-based, child-centered community development projects through sustainable solutions with measurable impact.
Plan International Canada Inc. (Plan International Canada) is officially registered as a charitable organization with the federal government.
Plan International and Plan International Canada have no political or religious affiliations.
Who is supported by Plan International Canada's work?
As a member of a global organization dedicated to advancing children's rights and equality for girls, Plan International Canada works with communities to help reach children with life-saving support against disease and hunger and improve access to education for children worldwide. A fundamental component of this work is realizing the inequality that consequently violates girls' rights and working with all genders to end injustices that disproportionately harm girls like gender-based violence, limited or no educational opportunities, child marriage and early pregnancy.
Learn more about the cause.
How does Plan International choose where to work?
In choosing where Plan International works, we carefully assess the potential to create lasting, positive change. We analyze poverty statistics and a wide range of human development indicators, such as literacy or infant mortality. We work with communities who have invited us to collaborate with them – an important prerequisite for work to be successful and sustained. Decisions on how to use the funds are based on strategic plans prepared by in-country program staff in consultation with children, communities, local governments and partner organizations.
Learn more about How we work.
What is Plan International's stance on abortion?
The reality is that abortion is not widely available or legal in many low-income countries. Where it is, Plan International supports women so that they can make their own decisions about their sexual and reproductive health rights and services, including family planning and abortion. Plan International supports the rights of women to choose all legal and safe options when it comes to family planning and other reproductive health services, including abortion.
Does Plan International provide emergency relief?
Yes, Plan International is uniquely positioned to respond quickly when disasters strike in the countries where we work. Many of our staff were either born or have deep roots in the areas they serve. This local knowledge as well as Plan International's long-term presence give us the relationships and infrastructure to ensure that money donated in response to emergency appeals gets to the people it's intended to help.
In many instances, your contribution to an emergency response through Plan International is matched by the government. Support Plan International's emergency relief fund.
Do sponsorship contributions go directly to one child?
No, when you sponsor a child, you're not just helping one child. Your donations are pooled with those from other generous Canadians along with those of our institutional and corporate partners. They are leveraged to maximize benefits based on the needs of the entire community. More than 80 years of experience in evidence-based programming has proven that this is the best way to provide a sustainable future for children.
Learn more about Child Sponsorship.
How much of my contribution goes towards Plan International Canada's development projects?
We are committed to maximizing the amount of funds that go towards helping children. In 2021, 81% of funds raised by Plan International Canada supported programs that help girls, boys, their families and communities. See our full financial reports.
How can I make changes to my monthly support?
We understand circumstances change, especially during this unprecedented time. We have options available if you need to make changes to your monthly support. Please call us at 1-800-387-1418 and one of our representatives would be happy to help you. To ensure the health and safety of our staff with accordance to all public safety guidelines, our Donor Care team is working at reduced hours from Monday to Friday, 10 AM to 6 PM EST.
How can I see the results of my contribution?
We regularly share stories about the people we work with on our website and on our Facebook, Twitter, and Instagram profiles. We also send email updates to donors sharing the progress their donation is supporting.
If you've sponsored a child, you will receive an additional annual progress report about your child.
We also publish an Annual Review detailing our impact, which includes audited financial statements showing how funds are spent. These statements are prepared according to International Accounting Standards.
Are my contributions eligible for tax credits?
Yes, donations over $25 are tax deductible. Receipts are automatically issued in February of the following year to reduce expenses and facilitate record keeping. Only official receipts – paper and electronic – issued by Plan International Canada and bearing our business number are valid for Canadian income tax purposes.
If you are a member of a group sponsoring a child, project or program, official receipts are available for individuals in the group. If you require a tax receipt prior to February, please contact our Donor Care team by phone at: 1-800-387-1418 or email at: info@plancanada.ca.
All Plan International Canada supporters with an email address on record will receive their tax receipt electronically to help save paper and keep costs low, maximizing funds for Plan International Canada initiatives. If you would like to change your preference, please contact us at info@plancanada.ca or 1-800-387-1418. If you have more questions about tax receipts, please visit the income-tax receipts page.
Can I leave a gift in my will to my sponsored child?
No, it is not possible for you to leave a gift in your will to your sponsored child. You can, however, leave a gift in your will for Plan International's Child Sponsorship programming.
Since a legacy gift is realized well into the future, and because needs and programs shift over time, your bequest will have the maximum impact for children if Plan International Canada has the flexibility to direct your gift to where the need is greatest at the time. This will allow your gift to support generations of children far into the future. To ensure that Plan International can honour your wishes and distribute your gifts as you intend, the wording of your will is important. To discuss the wording of your will, please don't hesitate to contact Michelle Bernard at (437) 828-8974 or email mbernard@plancanada.ca.
I talked to one of your representatives on the street and was given the opportunity to donate through a special iPhone. Is this a secure way to make a donation?
Plan International Canada is always seeking new monthly donors to join our mission for change. One way to support us is through our committed and passionate representatives working in many Canadian cities. Our face-to-face fundraising partners accept donations, on the spot, through tablets. This is a convenient and secure mobile-giving method that helps us receive your urgently needed contribution as soon as possible. These tablets can accept both credit card and bank donations and help reduce administrative costs; our representatives never accept cash. Fundraisers can be identified by their blue or pink apparel and an ID badge. If you meet one of our representatives, please feel free to say hello and inquire about the device and our important programs.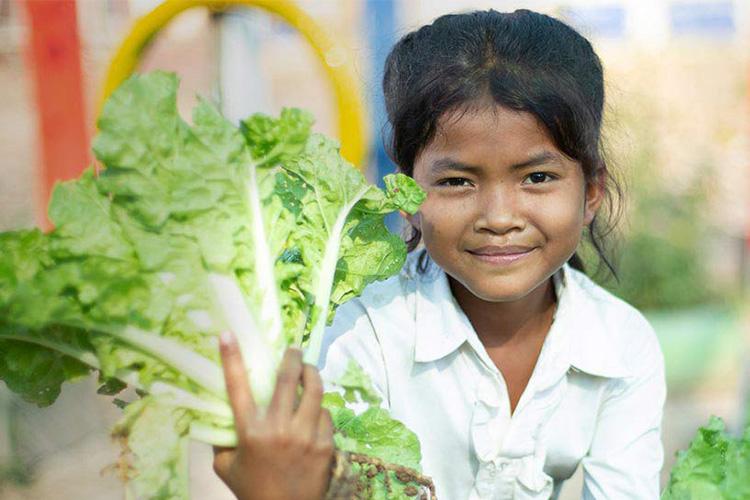 Gifts of Hope FAQs
Do you have Gifts of Hope-related questions? Find answers on our Gifts of Hope FAQs page.
Visit Gifts of Hope FAQs
Child Sponsorship FAQs
Do you have questions about Child Sponsorship, including letter writing? Visit our Sponsorship FAQs page for answers.
Join our mailing list to receive updates
By signing up you agree to receive our emails.