Placeholder for mobile shadow
​
Girls Belong
Where?
In leadership! Representation and gender diversity matter. When girls participate in key decision-making, organizations and the world are better for it.
Since 2016, Plan International Canada's Girls Belong Here program has been helping self-identifying girls and young women between the ages 14 and 24 connect with leaders and claim spaces across civil, corporate, academic and government sectors.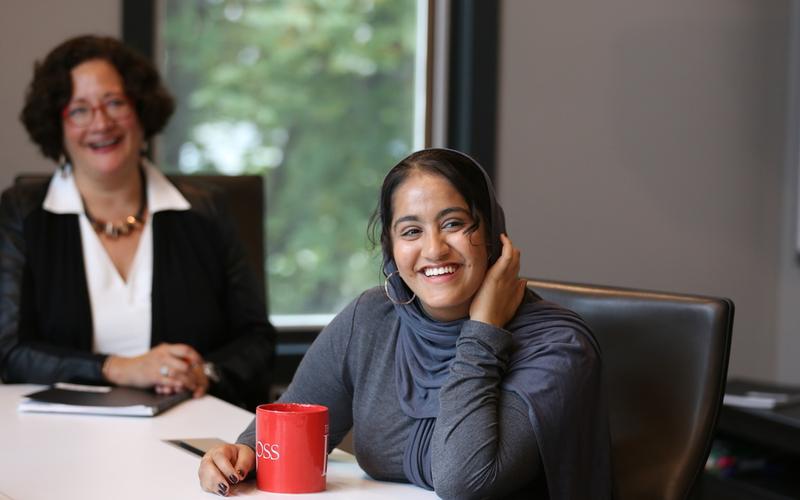 Here are the ways we do it – both in-person and virtually:
Seat Share Step into a leader's role for several days. In this activity, youth exchange ideas with leadership, receive mentorship and participate in meetings and other meaningful discussions, contributing to key organization goals.
Innovation Hub Connect and collaborate with other youth participants in a half day workshop led by a partner organization. You'll help address a challenge or issue they face – they want your unique perspective!
Speaker Series Youth can share their ideas and advocacy work year-round by leading an organization's lunch-and-learn, fundraising initiative or another event (don't be afraid to think outside the box).
Shatter the ceiling
We know that girls and women are creative, passionate and capable. Still, women are underrepresented across all industries and sectors – especially science, technology, engineering and mathematics (STEM) fields – and in key decision-making roles.
In Spring 2023, Plan International Canada is expanding the Girls Belong Here program and aligning it with International Women's Day (March 8). The goal: to help bridge the leadership gap, so women can shatter the glass ceiling and girls can dream of – and achieve – limitless possibilities.


180+ youth participants
.



8 years amplifying girls' voices
.

Get Involved
See all the amazing things that can happen when girls and young women lead.
For youth:
We invite all self-identifying girls and young women between the ages of 14 and 24 based in Canada to apply.
If you'd like to participate in our 2023-2024 programming, follow us on social media to get updates about when our application period opens. You can also sign up for our monthly e-newsletter to stay up to date on upcoming youth opportunities.
For organizations:
There are many ways you can champion change (and innovation)! In addition to hosting a Seat Share, Innovation Hub or Speaker Series, you can fundraise. Fundraising can be through an employee page, point-of-sale campaign, company matching, or other events and initiatives.
If you have an idea, we can help build it. To learn more or get involved, please contact us at girlsbelonghere@plancanada.ca.
---
Thank you to all our incredible Girls Belong Here partners – past, present and future.
Legacy partners
---
Highlights: A look back to 2021
Go back to the year Girls Belong Here went virtual and launched Innovation Hubs and Speaker Series. Watch youth ambassadors and partners share their perspectives, experiences and learnings.
Reflections from youth participants and partners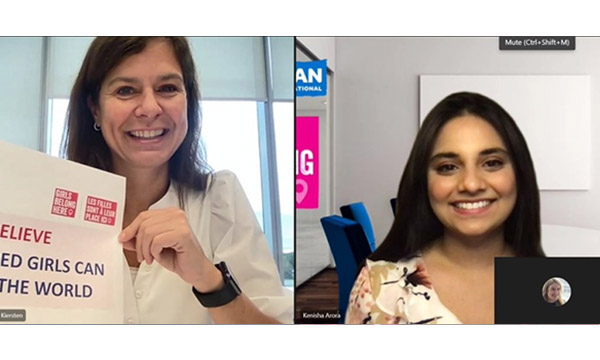 AstraZeneca
AstraZeneca's support for Girls Belong Here goes beyond Canadian borders. As the largest global supporter for the program, AstraZeneca executives participated in Seat Shares with six young women from Canada, the United States and Sweden to help develop their Young Health Programme (YHP).
YHP supports the United Nations' Sustainable Development Goal 3.4: "By 2030, reduce by one third premature mortality from non-communicable diseases through prevention and treatment and promote mental health and well-being."
The Body Shop
Led by the North American VP of Marketing and Activism of The Body Shop, 21 youth from Canada and the United States collaborated with leadership through Seat Shares and an Innovation Hub.
In these experiences, girls and young women contributed their ideas and perspectives to The Body Shop's activism work to help tackle social and environmental issues.
BMO
Since 2019, BMO has been a proud partner supporting the Girls Belong Here program. In 2021, seven girls and young women were invited to engage about sustainability issues and solutions.
Through Seat Shares with Sharon Howard-Laird, General Counsel of BMO Financial Group, participants consulted and exchanged ideas with industry experts.
IBM Canada
To help close the gender gap and create more inclusive spaces in Science, Technology, Engineering and Mathematics (STEM) fields, IBM Canada hosted an interactive roundtable.
In these discussions, girls and young women shared ideas and solutions with their President and General Manager and explored their reflections.
Read more in our 2022 Annual Report
Learn how Riti, an arts student at the University of British Columbia, spent time learning the ropes at BMO – and it changed her career trajectory.

Read Riti's story

​
Join our mailing list to receive updates
By signing up you agree to receive our emails.