Placeholder for mobile shadow

Water is essential for survival, yet in Bangladesh, water also has the power to destroy anything in its path.
For months at a time, monsoon season brings heavy rainfall to the country. In fact, approximately 80% of Bangladesh's yearly rainfall will occur from June to October, and by the end of monsoon season, almost one third of the country is underwater.
Sitting at the foothills of the Himalayas, river erosion and monsoons occur frequently for the remote community of Hatibandha, Bangladesh. When this happens, the community can only be accessed by boat, houses are damaged, and crops and livestock are lost.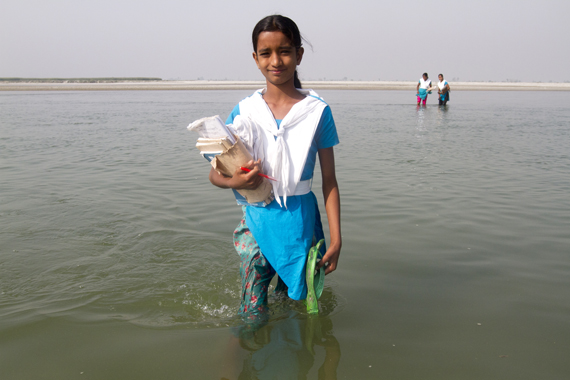 Living on the edge
In the northwest area of Bangladesh where the community of Hatibandha is located, the annual rainy season has created a series of silt islands called the chars. These river islands are prone to erosion and flooding, and as a result, communities like Hatibandha are subject to major disaster.
Throughout the monsoon season, families farm without the benefit of running water or electricity, and they remain far from essential facilities, like schools, health clinics and markets. Flooding may also cause extensive damage to homes and property, contaminate water supplies and spread sickness among the community.
"It's a big challenge for us to increase the level of the floor of our house to save it from flood every year," explains Sharifa, a mother of four children. She and countless families living in Hatibandha experience the same anxiety each season.
No school when the water comes
For children in Hatibandha, schools often close for prolonged periods of time when floods occur, disrupting their education.
Secondary schools are located on the mainland and can take up to 1.5 hours to reach on foot without rain. But during the rainy season, students need to cross the river by boat to get to school. Because the long journey to the mainland is deemed unsafe for girls, only 7% of secondary students are girls.
You can help transform the community of Hatibandha
Despite each of these hurdles, you can help make a lasting difference and change the future of Hatibandha.
With your help, Plan will help address some of the challenges that the people of Hatibandha face every year because of their geography. Plan will be on the ground to support the following:
Teaching children how to swim
Educating community members on how to build disaster-resilient housing, store food, and protect their lives and their property.
Building separate boys and girls latrines at schools
Constructing girls' dormitories so girls can attend secondary school without worrying about the commute.
Setting up temporary residences in Hatibandha for teachers to stay.
Setting up boat services that can take teachers and students to and from school during rainy season.
Applying effective practices to safeguard local water supplies
Working together in one community
"The community is excited because now they will be able to contribute to their own community development," explains Golam Robbani, a teacher based at the primary school in Hatibandha.
Families, teachers, volunteers and staff can all agree that positive change is on the horizon.
Help change the future of 8,900 girls, men, women and children in Hatibandha forever!
Join our mailing list to receive updates
By signing up you agree to receive our emails.