Placeholder for mobile shadow
What is
face-to-face

fundraising?

Our face-to-face fundraising program is designed to reach people in communities all around Canada. Our canvassers inform and inspire people at home and in the community to help us advance children's rights and equality for girls around the world.

People are encouraged to sign up as monthly donors because it's the best way to support our long-term programs and projects in the communities where we work and this reliable source of funding helps us create lasting and sustainable change for children.
Why do we do
face-to-face

fundraising?

This method of fundraising allows us to have meaningful conversations with the general public. Our canvassers show people the impact and benefits of Plan programs around the world. It's also the first step in building a lasting relationship with people in Canada who care about our cause.

Face-to-face fundraising represents our largest channel for total monthly donor acquisition. This type of funding is critical for us because it helps us strengthen long-term relationships with donors, set more predictable budgets, forecast cash flow more effectively, keep administrative costs down and reduce the volume of fundraising requests.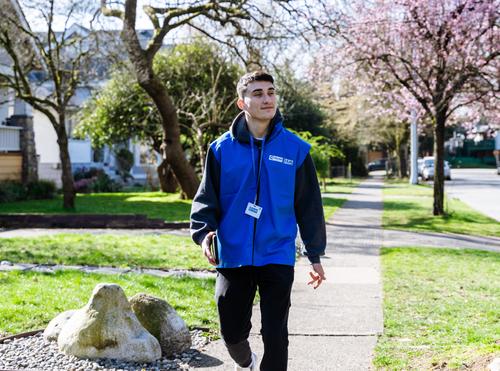 What you can expect when a face-to-face fundraiser comes to your door:
Fundraisers will invite you to take part in Plan International Canada's automated monthly donation program.
Fundraisers will always wear a lanyard with an identification card. Depending on the time of year, they may also be wearing Plan International Canada logo t-shirt/vest/hat/gloves
Donations can be set up using your Credit Card or Direct Debit information
For the safety of our fundraisers and the secure processing of your donation they are NOT PERMITTED to accept CASH at any time
How the process works:
Fundraiser will enter and submit your information into a secure tablet and then a verification call takes place with one of the following numbers: 1-866-478-0674 or 613-691-0292 or 1-866-678-1005 or 1-888-505-0224
An agent on the phone will proceed to confirm your information on a secure recorded line and process your first donation on the spot
Within 24-48 hours you will receive a Confirmation Email from Plan International Canada noting your donation details
Your Tax Receipt will be generated annually and mailed to the address provided every February
XXXXXX was very pleasant and explained the foundation very thoroughly. He did a great job advocating for children and put it into perspective by outlining what my contribution would turn into. He was very soft-spoken, asked questions, and answered all my questions in depth. I think he is a great contribution to your cause and organization.​
Both XXXXXX and XXXXXX were exceptional this evening at my door, a good team. Myself familiar with Plan International Canada, they both brought me up-to-date with​ the latest, explained how the payment process had been streamlined and stressed with tact how even the smallest amount helps.
XXXXXX did great! He was able to explain his cause, whom is being affected and why it's important to be involved. I appreciated his enthusiasm, kindness and sincerity. Thank you again.
Join our mailing list to receive updates
By signing up you agree to receive our emails.