Placeholder for mobile shadow
What is
face-to-face

fundraising?

Our face-to-face fundraising program is designed to reach people in communities all around Canada. Our canvassers inform and inspire people at home and in the community to help us advance children's rights and equality for girls around the world.

People are encouraged to sign up as monthly donors because it's the best way to support our long-term programs and projects in the communities where we work and this reliable source of funding helps us create lasting and sustainable change for children.
Why do we do
face-to-face

fundraising?

This method of fundraising allows us to have meaningful conversations with the general public. Our canvassers show people the impact and benefits of Plan programs around the world. It's also the first step in building a lasting relationship with people in Canada who care about our cause.

Face-to-face fundraising represents our largest channel for total monthly donor acquisition. This type of funding is critical for us because it helps us strengthen long-term relationships with donors, set more predictable budgets, forecast cash flow more effectively, keep administrative costs down and reduce the volume of fundraising requests.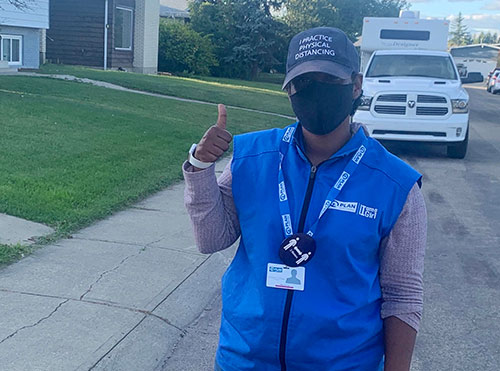 Face-to-face

fundraising program during the COVID-19 pandemic

The health and safety of the general public and our fundraisers is very important to us and we are using Health Canada and the World Health Organization as our trusted sources on information for safety procedures and protocols.

Protocols for Fundraising Canvassers:
Canvassers are equipped with PPE protective gear and sanitization materials.

Canvassers carry a mask and will wear it at the request of homeowners and maintain social distancing.
Personal hygiene protocols ensure regular and thorough handwashing and sanitization while at work. Canvassers carry hand sanitizer and disinfectant wipes.
Tablets and other work materials are sanitized at the start and end of each shift and as needed throughout shifts.

Physical distancing – canvassers maintain social distance during their conversations with homeowners.
Verification call centers (866-478-0674, 866-777-8919 or 866-678-1005) are connected directly by phone to complete the touchless sign-up process.
Tablets used by fundraisers have GPS software which enables contact tracing.
I am writing to give feedback for your representative named xxxxxx. He visited me at my home to talk to me about the opportunity to sponsor young children in difficult situations in Africa. He was well-informed, compassionate and very respectful when presenting the opportunity to support these girls. I was very impressed by his knowledge and care for the cause that he is serving. He told me about his story immigrating to Canada and that he had worked with your organization while he lived overseas as well. This made a big impact on me because it made me realize that he was dedicated to the cause for a long time and for the right reasons. In fact, I was so impressed I ended up sponsoring two young girls. I'm grateful for the opportunity that he has brought to my life and my family's. I cannot speak highly enough of him and hope that he remains in your favor as you continue your important work as an organization.
XXXX and XXXX were very enthusiastic for acquiring donors for Plan International Canada. During this time, I appreciated how sincere, honest and respectful they were, especially with the COVID circumstances and the PPE. It was really lovely.
I was super pleased with the outgoing and compassionate people that came to my doorstep. They lightened the mood all while getting across what I was going to be donating to. 5 out of 5!
Join our mailing list to receive updates
By signing up you agree to receive our emails.