Pakistan floods
Massive flooding has left 1/3 of Pakistan underwater, impacting 33 million people. As a member of the Humanitarian Coalition, we're raising awareness for their urgent appeal, so partner organizations can quickly support children and families in dire need. Visit their website now to see how you can help those at risk.
close
Placeholder for mobile shadow
​
What is Girls Belong Here?
The Girls Belong Here initiative is part of a global movement to amplify girls' voices, advocate for their rights and elevate their position in society.
Since 2016, Girls Belong Here has created opportunities for young women to step into high-profile, professional roles to demonstrate that women belong at all levels of leadership and that they have a right to equal opportunity in all sectors.
Over the years, the Plan International Canada Girls Belong Here program has expanded beyond the Canadian border to the U.S., U.K., Sweden and Switzerland. Most of the Girls Belong Here activities take place prior to International Day of the Girl on October 11. To date, the program has matched approximately 150 female-identifying youth with business, government and not-for-profit organizations.
How does Girls Belong Here work?
To adapt to our current reality, Girls Belong Here shifted to an all-digital platform while ensuring we maintain the quality and integrity of the program. We have designed the virtual program to provide even more spaces for girl ambassadors (ages 14-24) to share their voices, stories, ideas and solutions with leaders and organizations. The seat shares, innovation hubs and speaker series take place between September and October over a period of days. We will be monitoring the state of the world closely to see if and when a hybrid model will be feasible.
With the implementation of seat shares, innovation hubs, speaker series and consumer activations, more partners and youth ambassadors can participate in the program.
Ways to get involved
We have developed more in-depth opportunities for companies to get involved with and show their unwavering support for gender equality and girls' rights. You can participate in one or more of the following:
Girls Belong Here seat-shares: A youth ambassador steps into your position, attends meetings, connects with your team and builds their leadership skills.
Girls Belong Here innovation hubs: Connect with multiple youth ambassadors to hear their unique ideas, solutions and insights on a challenge or project.
Girls Belong Here speaker series: Invite a youth ambassador to speak at your company's conference or a townhall.
Employee engagement and consumer activations: We can help you build an employee fundraising page, a point-of-sale campaign, company matching program, events and more!
Girls Belong Here is good business
National recognition, employee engagement, employee retention
Profile your company as a leader in gender equality and girls' rights
Opportunities for brand recognition and promotion
Walk the talk and show the world how your company stands for diversity, equity and inclusion
Connect with a diverse and incredible group of youth ambassadors
Plan International Canada thanks our Girls Belong Here partners for their unwavering dedication to investing in girls.

In 2021, these corporations took part in the Girls Belong Here program
This year, the Girls Belong Here program incorporated new elements including innovation hubs and speaker series. We had 17 partners participate and over 40 Youth Ambassadors join across Canada, the United States, Sweden and Switzerland. By empowering girls today and publicly standing beside them, we help foster a generation of girls and women who will break barriers, challenge stereotypes and contribute to our global economy and society.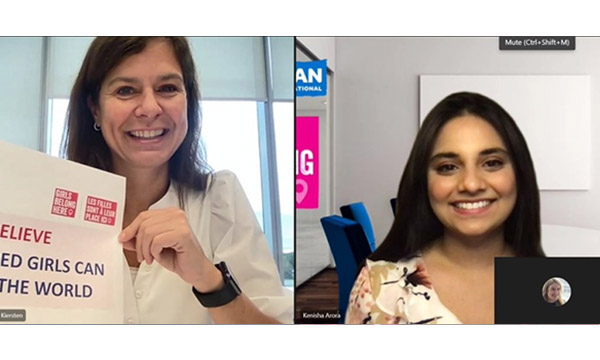 AstraZeneca
AstraZeneca was thrilled to join Plan International Canada as the Executive Sponsor for Girls Belong Here in 2021. In alignment with their Young Health Programme (YHP), a number of AstraZeneca executives participated in an amazing day of learning and dialogue during a seat share experience with six remarkable young women from Canada, the U.S. and Sweden.
The Young Health Programme was established in 2010 and is AstraZeneca's global community investment initiative. The YHP supports Sustainable Development Goal 3.4: by 2030, reduce by one third premature mortality from noncommunicable diseases through prevention and treatment and promote mental health and wellbeing.
BMO
BMO has been a proud supporter of the Girls Belong Here Program for over three years. In 2021, BMO participated in a seat share with Sharon Haward-Laird, General Counsel of BMO Financial Group, and a ThinkTank that was focused on a Just Transition. The BMO Financial Group continues to show their ongoing support through a series of initiatives to encourage young women on the path to leadership, as well as backing the goal of achieving a sustainable future. BMO provided seven young people an opportunity to consult and share their perspective on sustainability related issues and hear from experts in the industry, facilitated by BMO's Sustainability team.
The Body Shop
The Body Shop has proudly participated in the Girls Belong Here program for two years. This year, they not only participated in a seat share but expanded their involvement to include both a Canadian and U.S. innovation hub. Led by their North American VP of Marketing and Activism, their leadership team embarked on a journey with 21 youth across North America, to ensure they were providing a space for more youth voices. Their activism work as a B Corp, is dependent on youth influence and voices from the outside in, as it pertains to business aligned decisions.
IBM Canada
IBM Canada is invested in creating avenues that broaden girls' participation in the fields of Science, Technology, Engineering and Mathematics (STEM). As part of our youth leadership program, Girls Belong Here teamed up with IBM Canada this year to host an interactive roundtable with youth ambassadors who engaged in meaningful dialogue around girls in STEM with Claude Guay, President and General Manager, IBM Canada. They provided ideas and solutions about enhancing girls' and young women's participation in STEM fields. IBM has been steadfast in its mission to advance women in STEM by driving innovative programs to help close the gender gap and build an inclusive workforce.
A look back at previous years
In 2020, these corporations took part in CEO seat shares to celebrate International Day of the Girl
The Girls Belong Here program looked a little different this year, but our incredible partners and youth ambassadors rose to the occasion and met this historic and challenging year with resilience, creativity and renewed passion. Girls and young women in Canada were propelled into leadership positions to demonstrate their potential and show that girls belong wherever decisions are being made.

​
Join our mailing list to receive updates
By signing up you agree to receive our emails.