Placeholder for mobile shadow

Canadian charities join forces to raise funds for Ukraine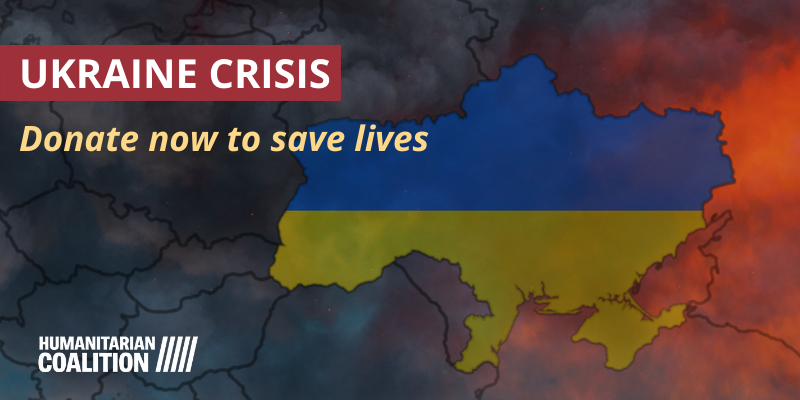 Plan International Canada among organizations addressing the humanitarian needs of children, especially girls
TORONTO, ON – 1 March 2022 – In response to the invasion of Ukraine by Russian forces, leading Canadian aid agencies – through the Humanitarian Coalition – are launching an appeal to raise funds and rush emergency assistance to people in need.
With numbers expected to rise, the UN Office for Humanitarian Assistance has confirmed 376 civilian casualties, including 94 deaths.
According to the latest government data compiled by UNHCR1, around 660,000 refugees have fled Ukraine in the past six days, searching for safety in neighbouring countries (Poland, Slovakia, Hungary, Romania, and Moldova) as of March 1, 2022.
The escalation of conflict in Ukraine comes amidst a surge of COVID-19 cases in the country, where the number of active cases surged by 555% between 15 January and 25 February. Nearly three million people were already in need of humanitarian assistance before the invasion, a figure which is expected to rise exponentially.2
Humanitarian Coalition members and their local partners will be responding to the crisis in Ukraine by providing emergency assistance to affected families.
Quote
Lindsay Glassco, President and CEO of Plan International Canada, says, "As the situation in Ukraine continues to deteriorate, we are deeply concerned for the safety and protection of children, especially girls and young women who are among the most vulnerable to abuse and trafficking during a humanitarian crisis."
"Plan International is assessing how we can best support girls crossing the border into Moldova, Romania and Poland. We will work with organizations who are already engaged in relief efforts to ensure there is immediate help for children and their families as they cross the border from Ukraine. Urgent needs include shelter, food and water, psycho-social support, and education."
The following agencies are members of the Humanitarian Coalition: Action Against Hunger, Canadian Foodgrains Bank, Canadian Lutheran World Relief, CARE Canada, Doctors of the World, Humanity & Inclusion, Islamic Relief Canada, Oxfam Canada, Oxfam-Québec, Plan International Canada, Save the Children, World Vision Canada.
Canadians can give to Ukrainian emergency relief at www.humanitariancoalition.ca or by calling 1-855-461-2154.
The Humanitarian Coalition brings together 12 leading aid organizations to provide Canadians with a simple and effective way to help during large-scale humanitarian emergencies.
About Plan International Canada
Plan International Canada is a member of a global organization dedicated to advancing children's rights and equality for girls. Plan International has been building powerful partnerships for children for over 85 years and is now active in more than 75 countries.
We are calling on all Canadians to embrace their global citizenship: to believe in the power and potential of every child and to stand with children, especially girls, anywhere they are oppressed, exploited, left behind or aren't equally valued.
Visit plancanada.ca for more information or join the conversation on social media: @PlanCanada #UkraineCrisis #RespondingTogether
For media inquiries, please contact:
Plan International Canada
PR and Communications
PRTeam@plancanada.ca
---
1 https://www.unhcr.org/news/briefing/2022/3/621deda74/unhcr-mobilizing-aid-forcibly-displaced-ukraine-neighbouring-countries.html
2 https://reliefweb.int/report/ukraine/ukraine-humanitarian-response-plan-2022-february-2022-enuk
Join our mailing list to receive updates
By signing up you agree to receive our emails.