Placeholder for mobile shadow

Cyberbullying continues to be a serious issue affecting teens and young adults, but the way in which online harassment impacts the lives of girls has only recently begun to be studied.
In Canada, the death of 15-year-old Amanda Todd caused mass public outcry and raised awareness of the devastating impact cyberbullying can have on a girl's mental health and well-being. But unfortunately, Amanda's story of being targeted online is not an isolated case as many girls in Canada continue to be insulted, shamed and abused every day. In fact, girls are more likely to be harassed online
In a new survey from Plan International Canada, 1002 girls and young women across the country were asked to disclose their experiences with cyberbullying. The results: 6 in 10 girls have been harassed or abused online.
The types of harassment that most girls are facing in Canada are abusive and insulting language (72%), purposeful embarrassment (64%), body shaming (61%), sexual harassment (55%) and stalking (51%).
The report conducted in Canada is part of a global study by Plan International to capture the ways in which online harassment impacts girls' lives around the world. Over 14,000 girls were surveyed in 22 countries, with more than half of respondents saying they have experienced online harassment and abuse.
Read Plan International's full report on online harassment around the world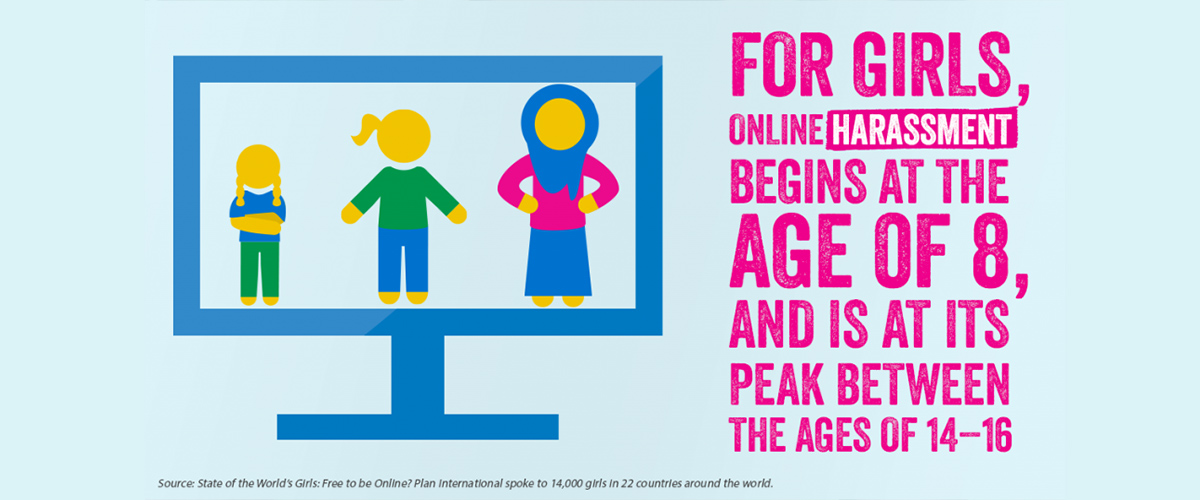 What is cyberbullying?
Cyberbullying is harassment that takes place on the internet, mainly on social media platforms.
This type of behavior can include:
Posting insults or rumours about a person
Threatening to harm someone or telling a person to harm themselves
Posting derogatory or hateful names, comments, or content about a person's race, religion, ethnicity, sexual orientation, gender identity or other personal characteristics
Cyberstalking
Unlike traditional bullying, cyberbullying can happen anywhere and at any time due to our reliance on technology as well as our addiction to social media.
In addition, targets of online abuse are unable to see their attackers face-to-face which may make them feel isolated and dehumanized. It also makes it tough to hold perpetrators accountable as they can easily hide and continue to abuse by creating various online profiles.
Cyberbullying impacts mental health
Scientific research has concluded that cyberbullying can lead to mental health issues, including low self-esteem and depression.
Our data supports these findings, specifically for girls and young women in Canada, as 72% of respondents said they had experienced negative effects due to being harassed on social media platforms.
The most common negative effects of online harassment are lower self-esteem or loss of confidence and mental or emotional stress, followed by problems at school.
cyberbullying and social media
The social media platforms that are used by most girls in Canada are Instagram, Snapchat and Facebook.
Of those girls who reported being harassed and/or abused online, 37% said the incidences occurred on Instagram followed by Facebook (33%) and Snapchat (22%).
Additionally, over half of the girls surveyed across the country say that social media companies need to do more to fight online harassment on their platforms.
Why this data matters
Today, COVID-19 has forced many girls to move more of their lives online. With this comes the increased risk of online harassment and abuse for girls, including gender-based violence, exploitation and sexual abuse.
From our global findings, girls and young women are being silenced online as 1 in 5 girls have left or significantly reduced use of a social media platform after being harassed, while another 1 in 10 have changed the way they express themselves and what they choose to share.
And yet, girls have the right to speak up and take part in public life. Social media platforms exist to help us connect and engage, they shouldn't threaten a girl's ability to share her views or express herself.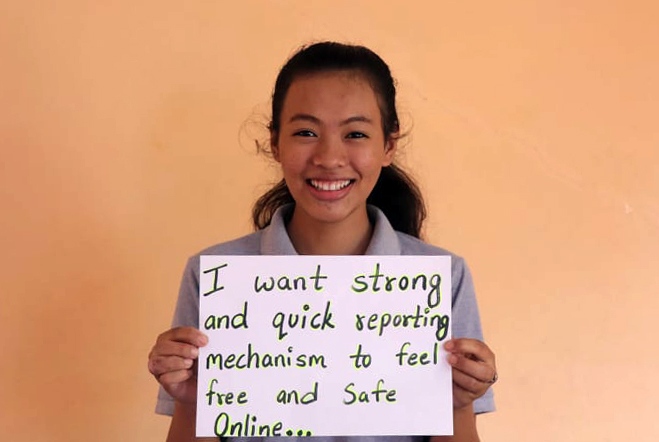 More can be done to make online spaces, and especially social media, a safer space for girls and young women. That's why Plan International Canada is standing with girls around the world as they call on social media companies, like Facebook and Twitter, to do better when it comes to addressing harassment and abuse on their platforms. This includes putting in place evidence-based reporting mechanisms and making this reporting well known to all users.
Join our mailing list to receive updates
By signing up you agree to receive our emails.