Placeholder for mobile shadow
Plan International's response to COVID-19
During times of crisis, we must continue to work to protect every child. The impacts of the COVID-19 pandemic, including school closures, gender-based violence and rising hunger, continue to cause the greatest setbacks to girls' rights and are leaving them further behind.
We must act now to Stop the Setback to girls' rights. Please donate today to help us reach children – especially girls – and their families with life-saving essentials, tools and resources. 
Donate today!
Global approach
Plan International has over 80 years of experience in international development and humanitarian response and remains committed to children's rights and equality for girls as the world navigates the COVID-19 pandemic.
The COVID-19 crisis has affected people around the globe. Primary health impacts have been grave, and associated lockdowns and disruptions have led to additional (secondary) impacts. Through its global response, Plan International has been assessing the extent and severity of the secondary impacts on women and children, especially girls, since March 2020.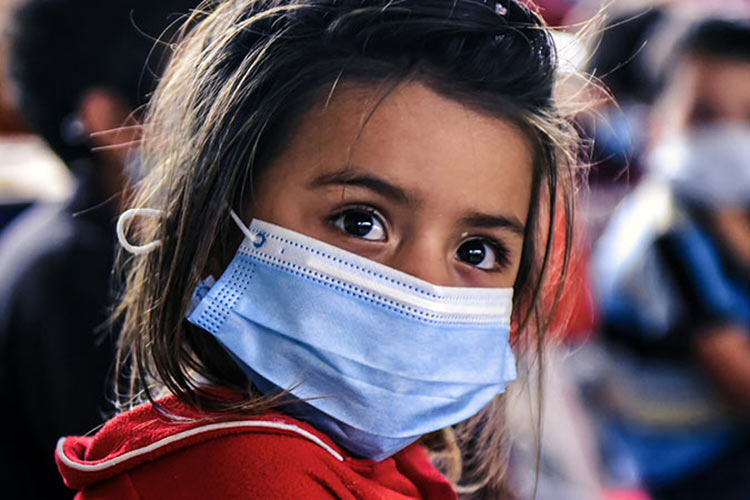 Our work shows that secondary impacts must receive adequate attention so that severe long-term repercussions for people's livelihoods, education, rights and well-being are prevented.
Every community in which we're active faces unique problems in fighting the pandemic and stopping the setback for girls, including pre-existing issues that have been worsened by COVID-19 and other crises.
We've begun to identify and measure the needs of disadvantaged people by directly incorporating their voices into the response process through round-table discussions, forums, community groups and interactive networks. 
Our emergency response
Our response continues to evolve in order to best support the communities in which we work. Our efforts focus on health and hygiene, community engagement and accountability, education and gender equality.


Supporting health systems by training and equipping community and facility-based health workers in the detection and management of COVID-19, vaccination, contact tracing and referral. Providing logistical support for community vaccine-rollout and essential maternal-newborn child-health and sexual reproductive health services

Providing vaccine information and personal protective equipment.

Distributing hygiene and dignity kits to vulnerable households, female health-care workers and adolescent girls. These kits include items such as soap, toothpaste, toothbrushes, shampoo, washcloths, laundry soap, menstrual-hygiene products, underwear and diapers.

Supporting children's continuing education by ensuring that there is access to handwashing facilities in schools and by helping teachers and schools protect their students from the virus and look after those who are most at risk. Where possible, we are exploring innovative options – such as online learning, platforms such as WhatsApp and the broadcasting of recorded lessons via TV and radio – for ensuring continuity of education.

Sharing vital public-health information and promoting hygiene best practices, in part by installing handwashing facilities. We are also counteracting the spread of myths and misconceptions around the virus and the stigmatization of those who become sick. 

Advocating with governments to ensure that the impacts of the crisis on the rights and well-being of children – particularly girls – and young women are fully understood and considered in their national response efforts and international co-operation. 

Intensifying support and preventive measures in existing refugee and displaced people's camps/settlements where we are already working. The families in these camps live in crowded spaces, often with poor hygiene and sanitation and health services, where the impact of the virus would be devastating.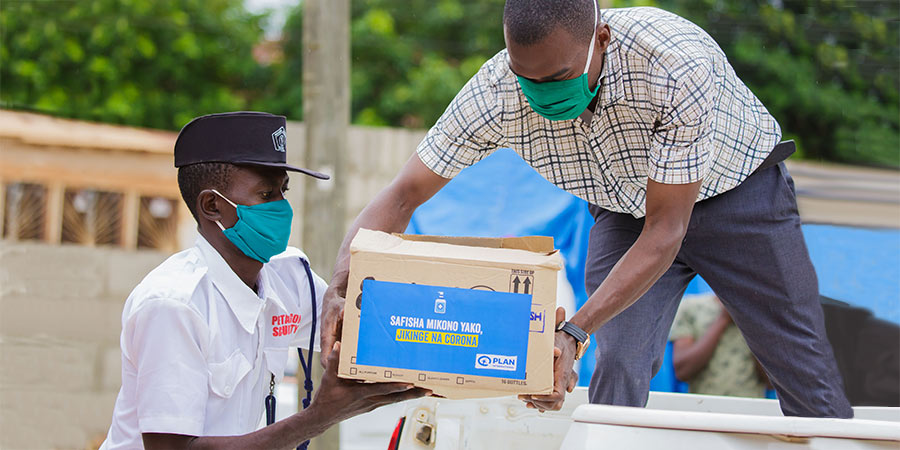 Gender equality and ensuring that the unique needs of girls and young women are taken into account are foundational elements of our pandemic response. COVID-19 has caused a setback for girls, unravelling decades of progress.
To Stop the Setback of girls' rights, we are actively helping by:
Protecting girls from violence.
As the pandemic continues, the long-term well-being of girls and women will largely depend on measures taken to help protect them from violence – especially in lockdown contexts.
Plan International's efforts will include educating parents about sensitive care, educating everyone about types of abuse and how to spot them, making services readily available to victims and making funding for these services a priority.
Protecting girls' sexual and reproductive health and rights (SRHR).
SRHR, especially for girls, is vital and can determine an adolescent's entire future, but quarantine and business closures have robbed girls of many of the health services, social networks and educational tools that they previously used to maintain control of their bodies and futures.
Removing barriers created by the pandemic response will require strengthening the capacities of local services for adolescents, educating young people on SRHR and providing information on protection from violence.
Getting girls back to school.
Girls are at a disadvantage when it comes to both participating in remote education and returning to schools once they reopen. Increased burdens of unpaid domestic work may prevent them from keeping up with their remote studies, and various factors – including early and unintended pregnancy as well as child, early and forced marriage – may prevent them from ever continuing their education.
Plan International is working to emphasize the importance of girls' education, implement diverse distance-learning strategies, incorporate COVID-19 information into educational materials, train teachers for distance learning, return children safely to school and reduce dropout rates.
Supporting girls' agency and voices.
In many countries, prevailing cultural and social norms that grant men decision-making power have pushed many girls and women to assume silent, submissive behaviour during the COVID-19 crisis. 
Girls and women need support in raising their voices and making their needs clear during the pandemic. Including parents and guardians in open communication will help sensitize them to the needs of girls and holding round-table discussions and creating social networks for girls can help them support one another and connect to a wider community.
Strengthening girls' economic security and social protection.
Before the pandemic, women and girls typically earned less, held more insecure jobs, provided more unpaid labour, had less savings and lived closer to the poverty threshold than their male counterparts. The pandemic has worsened these conditions, pushing some women into dangerous, low-paying work that puts them at risk of violence, exploitation, pregnancy and early marriage.
Plan International aims to support girls' and women's empowerment when it comes to economic security and social protection. Strategies include identifying and developing employment skills in women and youth, working to guarantee young women the right to safe and equal employment and ensuring women's access to and participation in information and communication technologies.
National approach
In uncertain times, we are reminded of the important role that we all play in keeping our communities safe and healthy. At Plan International Canada, we are prioritizing the health and safety of our employees, donors, youth ambassadors, volunteers and stakeholders, while ensuring business continuity for our important work around the world.
At our Canadian offices, we've taken a variety of proactive measures to do our part in reducing the spread of COVID-19 in our communities:
We've created a COVID-19 task force to monitor the situation and ensure that we are closely following public-health guidance issued by the government and health authorities.
We've cancelled all international travel.
Door-to-door fundraising has resumed with all necessary precautions in place, including the wearing of PPE and standing two metres from the door.
We've instated a hybrid work model guided by public-health directives, with enhanced distancing, cleaning and ventilation in offices.
We've implemented business continuity plans to prevent significant interruptions to our work for children, especially girls, around the world.
Impact of our COVID-19 response
Thanks to our generous donors, partners, front-line staff and volunteers, we are proud to say that our COVID-19 response has reached over 80 million people around the world!
Read the COVID-19 2021 Update for a snapshot of how Plan International Canada has been responding to both the immediate and indirect effects of COVID-19.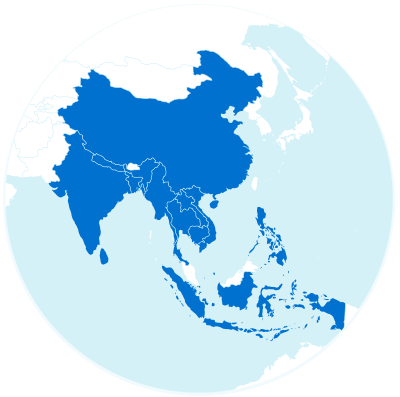 In the Asia-Pacific region, we distributed over one million pieces of personal protective equipment (PPE).
In Somaliland, we reached approximately 750,000 people through radio messages that raised awareness of gender equality and the importance of girls' education.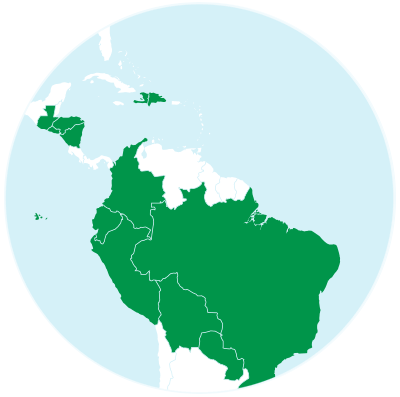 In Latin America and the Caribbean, we distributed over 440,000 food kits.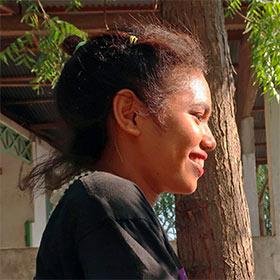 Due to the pandemic, the markets and many stalls were closed, so it was difficult for us to get our daily needs, including sanitary napkins. Thankfully, Plan International distributed menstrual-hygiene packages. The tips on the posters also really helped me overcome my anxiety and apply menstrual hygiene properly.
– Anca, 16, Indonesia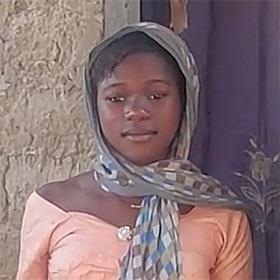 Plan International informed us of how to protect ourselves against COVID-19 in our village. In addition, Plan International provided masks for all the children and handwashing kits for our village. Now we wear masks and wash our hands with soap all the time. Thank you very much!
– Fatouma, 14, Mali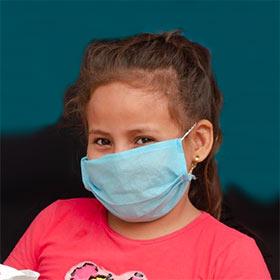 My dad was in delicate condition; he couldn't work for a long time, and we were all feeling bad. But, thanks to the community volunteer, we received food kits, and Plan International knew about our situation, so we received economic support to buy medicine for my dad as well as food. I'm also taking virtual classes through my cell phone. I feel thankful for all the support we've received.
– Klaryss, 9, Ecuador
​

We are grateful for the loyal support of our donors, who have helped us reach children around the world during this unprecedented crisis. Because of their generosity, we've been able to quickly adapt our programs to help slow the spread of COVID-19 and keep children safe, healthy, learning and thriving.

Watch this video of Sawit, an 11-year-old from Thailand, to see the impact of our COVID-19 response in action.
Time is running out for girls in crisis. Join us to Stop the Setback and help girls exercise their rights!

​
General FAQs
How is Plan International Canada responding to COVID-19?
Our global staff are well positioned and working hard to stop the COVID-19 virus from spreading to places it has yet to reach by collaborating with community members, national governments and global bodies like the World Health Organization.
We are closely monitoring the impact on our operations and actively assessing how we can adapt, should we need to, while intensifying our proactive measures.
With more than 80 years of experience delivering comprehensive, life-changing programs, we continue to focus on key ongoing health initiatives such as:
Constructing sanitary handwashing stations
Providing clean-water solutions and systems
Sharing life-saving hygiene information
Distributing necessary resources and supplies
Improving access to medical services for all
Engaging, educating and training leaders, teachers, parents and health-care providers
Protecting girls from the heightened dangers of trafficking, child marriage and abuse
Doing all we can to ensure that children – particularly those who are orphaned, displaced, living in refugee camps or living with disabilities – get the support they need
How is COVID-19 affecting your day-to-day operations?
To limit the potential impact of exposure to COVID-19 and to protect the health, safety and well-being of all employees, Plan International Canada has decided to implement a hybrid work policy. We have also paused all international travel to help support public-health efforts to minimize the spread of COVID-19. As the situation evolves, we are using Health Canada and the World Health Organization as our trusted sources of information.
How has Plan International Canada adapted its door-to-door fundraising program during the COVID-19 pandemic?
The health and safety of the general public and our fundraisers is very important to us, and we are using Health Canada and the World Health Organization as our trusted sources of information when it comes to developing new safety procedures and protocols. To learn more, read our new safety protocols for fundraisers
What are your concerns for children, community members and staff?
At this time, Plan International has not received any specific reports of children within our program areas being directly affected by COVID-19. However, our teams are implementing precautionary health procedures – either proactively or by government mandate – that have caused some disruption to regular activities. As always, we will continue to closely monitor situations, shifting programming as needed, to ensure that the health and safety of our staff and the people in the communities where we work is prioritized. We will continue to assess how we can continue our programs should things change and require us to adapt our work within low-, medium- or high-transmission contexts.
How will you continue to work toward advancing children's rights and equality for girls?
We are making every effort to help ensure that our important programming to advance children's rights and equality for girls can actively continue. We're also working to ensure that we are able to shift to address the greatest needs of those we serve should the areas where we work become impacted by COVID-19.
In crises, dangers are heightened for the most vulnerable populations – particularly those living in poverty with few available supports and marginalized groups such as girls, orphaned and refugee children and those living with disabilities.
The need to rigorously protect and safeguard all children, especially girls, and women from gender-based, sexual and intimate-partner violence – as well as harmful practices such as forced marriage and prostitution, trafficking, child labour and other forms of exploitation – must be emphasized and prioritized in all policies, information, guidance and response.
How can I make changes to my monthly support?
We understand that circumstances can change, especially during this unprecedented time. To help with this, we have options available if you need to make changes to your monthly support. Please call us at 1-800-387-1418, and one of our representatives would be happy to talk to you about your options. To ensure the health and safety of our staff and to be in accordance with public-safety guidelines, our Donor Care team is working at reduced hours: Monday to Friday, 10 a.m. to 6 p.m. EST.
What can I do?
You can help by supporting our ongoing work so we can reach more children and families in need around the world. Our global projects include initiatives like providing clean-water solutions and constructing sanitary handwashing stations as well as distributing vital supplies and creating access to critical health services to help save lives and to help ensure that children and young people stay safe and protected. We also advocate for policy changes and fostering supportive networks that have children and their rights at their core.
Plan International's work has never been as needed as it is today. As we navigate this situation, we are grateful for the support of all our dedicated donors, whose contributions allow us to continue to do our important work in vulnerable communities.
I have more questions
Please don't hesitate to reach out to a member of our team if you have any questions about our approach or are interested in additional ways to help. Though their availability is reduced, you can contact our Donor Care team through Live Chat on our website or via email at
info@plancanada.ca.
Child Sponsorship FAQs
How is my sponsored child and their family?
In order to limit the spread and impact of COVID-19, we are currently focusing on emergency and humanitarian responses as we work in partnership with communities to help strengthen resiliency and mitigate additional risks. Given the current challenges with medical testing that many countries face, and taking into account privacy considerations, we will not be able to update you on the health status of your sponsored child or their family at this time. We are, of course, doing everything in our power to help keep communities safe by sharing public-health information, promoting hygiene best practices and installing handwashing facilities.
How does the travel suspension impact sponsored children?
Plan International Canada is a member of the global Plan International federation, and we work in partnership and collaboration with country-specific members of the federation to implement our projects. Our Child Sponsorship program empowers communities to support children and their families. Plan International staff around the world are uniquely positioned as they live in the countries in which we work. As such, they can continue to provide support to and work directly with communities at a local level without the need for international travel.
Due to government-mandated travel restrictions, no sponsor visits will be taking place at this time, unfortunately, to protect the safety and security of our project participants, staff and valued supporters. We will re-evaluate based on the advisements and guidance from governments, experts and trusted global bodies like the World Health Organization.
Can I write to my sponsored child?
Yes. We're currently experiencing delays but have fully resumed letter correspondence for child sponsors.
When can I expect to receive communications from my sponsored child?
Communications from sponsored children will be delayed as Plan International staff members are focused on responding to COVID-19 outbreaks in affected regions at this time.
How can I make changes to my monthly sponsorship?
We understand that circumstances change, especially during this unprecedented time. We have options available to you if you need to make changes to your monthly contribution while continuing to support your sponsored child. Please call us at 1-800-387-1418, and one of our representatives would be happy to talk to you about your options. To ensure the health and safety of our staff and to be in accordance with public-safety guidelines, our Donor Care team is working at reduced hours: Monday to Friday, 10 a.m. to 6 p.m. EST.
Join our mailing list to receive updates
By signing up you agree to receive our emails.