Placeholder for mobile shadow
Making a real impact: Plan International Canada's work reaches 7.6 million children in 2022
New Annual Report shows the global charity at the forefront of advancing children's rights and girls' equality in a year of permacrisis
Toronto, Canada - January 19, 2023 – Plan International Canada, a leading global charity working towards a just world for all, has released its new Annual Report highlighting the organization's impact and perseverance in the face of global challenges in 2022. Entitled "Standing strong in a world in turmoil, we persevered in 2022," the report illustrates how Plan International Canada, in partnership with children, young people, supporters and partners, met the moment to tackle the root causes of the challenges facing girls and all vulnerable children. The organization provided crucial assistance to communities affected by hunger, displacement, the crisis in Ukraine, a mutating virus and extreme weather events caused by climate change.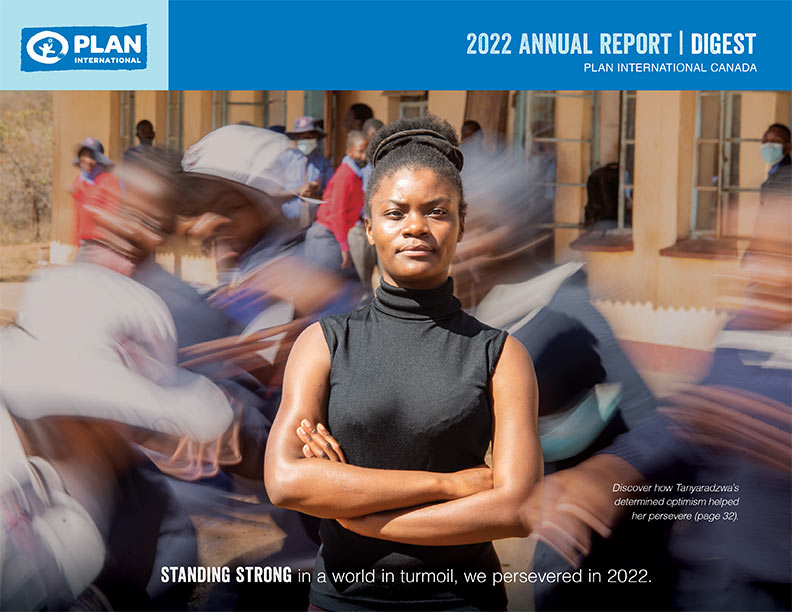 Despite these challenges, Plan International Canada's work was able to reach 14.5 million people, including 7.6 million children around the world, with a special focus on girls' rights and equality.
"In a year of permacrisis, the world faced unprecedented difficulties and turmoil, and our mission was more important than ever before," says Lindsay Glassco, President and CEO of Plan International Canada. "Through the power of perseverance, together, we brought meaningful change for children and families in need globally. We remain determined and optimistic in our relentless pursuit of a world where all children, especially girls, know and exercise their rights to live the life they choose."
The Annual Report, available in both a full 96-page version and a 44-page digest version, highlights Plan International Canada's work in priority areas including:
Education;
Health;
Protection from violence;
Youth leadership and economic empowerment;
Humanitarian response and resilience.
The Annual Report also delves into specific programs and their impact, including the story of Tanyaradzwa, a young Zimbabwean woman who, thanks to one of Plan International Canada's programs aimed at keeping girls in school, was able to continue her education and ultimately go on to attend university.
Another key project, Strengthening Health Outcomes for Women (SHOW), was a success. It improved maternal and child health for over 1.5 million mothers and children in Bangladesh, Ghana, Haiti, Nigeria and Senegal. The project was a six-and-a-half-year initiative with a budget of over $72 million and was supported by Global Affairs Canada with $11.6 million in matched funds from donors.
The five-year Leading for Peace Project aimed to build peace and resilience in communities in Colombia. The project engaged over 155,000 people, making a tangible difference in their lives. Global Affairs Canada provided $18.5 million, and Plan International Canada contributed $1.8 million in matched funding from supporters.
Visit plancanada.ca/AnnualReport to read inspiring stories from around the world and watch the highlight video.
About Plan International Canada
Plan International Canada is a member of a global organization dedicated to advancing children's rights and equality for girls. Plan International has been building powerful partnerships for children for over 85 years and is now active in more than 80 countries.
Visit plancanada.ca for more information and follow @PlanCanada on social media for the latest news.
Media Contact:
Plan International Canada
PR and Communications
PRteam@plancanada.ca
Join our mailing list to receive updates
By signing up you agree to receive our emails.