Placeholder for mobile shadow

Every year, the Spread the Net Student Challenge unites schools across Canada to join the fight to end malaria – a deadly disease that kills nearly 438,000 people every year. In 2017, 53 outstanding schools gave it their all and in the end, they raised over $150,000 to provide children and families with bed nets that will prevent malaria, save lives and create a brighter future for all!
This year's winning schools
On behalf of all of us here at Plan International Canada, we congratulate and celebrate all the participating students for their amazing achievements! Of course, it wouldn't be a competition without winners, and there are only 4 schools that can call themselves the 2017 champions and receive a very special visit from Rick Mercer, host of CBC's Rick Mercer Report and co-founder of Spread the Net. And the winners are…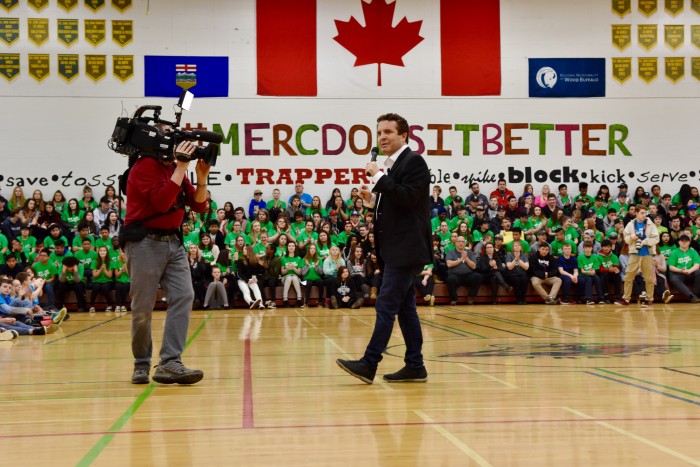 Beaverly Elementary School, Prince George, BC – raised $26,900 (Top elementary school)
Father Mercredi High School, Fort McMurray, AB – raised $10,168 (Top secondary school)
Langara College, Vancouver, BC – raised $14,625 (Top post-secondary school)
A. Riddell Elementary School, Hamilton, ON – raised $16,355 (Wild card school)
"Year after year, I'm amazed by the young Canadians who participate in the Spread the Net Student Challenge and find new and creative ways to raise funds and awareness for the global fight against malaria," says Rick Mercer. "Schools have gone all out for the tenth year of Spread the Net, and the enthusiasm from students across the country is remarkable." [embed]https://www.youtube.com/watch?v=Hkd4Ct7s9G8[/embed] [embed]https://www.youtube.com/watch?v=6G7dZGUyeW8[/embed]
Millions of lives impacted
Since 2007, Spread the Net has helped protect the lives of almost 32 million people by contributing to the delivery of over 15.3 million malaria-preventing bed nets to families in Africa. To date, over 800 schools across Canada have participated in the Student Challenge, raising more than $1.6 million for life-saving bed nets that protect children and families. See the impact Canadians have made over the years and meet some of the people benefitting from the Spread the Net Student Challenge. [embed]https://youtu.be/ZxxUKUF0geo[/embed]
Bed nets save lives. You can too.
You can prevent malaria and help stop a killer in its tracks when you buy a bed net today! Help prevent malaria!
Join our mailing list to receive updates
By signing up you agree to receive our emails.