Placeholder for mobile shadow
Emergencies, Education
3 innovative ways we're continuing education for students during Covid-19  
The COVID-19 pandemic has disrupted the education of 1.7 billion students worldwide.
In fact, closures of schools and other learning spaces have impacted 94% of the world's student population, up to 99 per cent in low and lower-middle income countries.
In low and lower-middle income countries, education and literacy is crucial for development. It is a powerful tool for breaking cycles of poverty and ensuring children are empowered to reach their full potential. In addition, education plays a critical role in advancing gender equality.
The learning losses due to the COVID-19 pandemic threaten to set millions of children back, erasing decades of progress, particularly when it comes to ensuring girls' education. Current estimates predict nearly 24 million children and youth may drop out or not have access to education in the next year due the pandemic's economic impact alone.
For girls, not continuing their education can result in adolescent pregnancy and various forms of gender-based violence, such as child marriage and Female Genital Mutilation (FGM). For boys, child labour, exploitation and recruitment into armed militias are possibilities without the protection that education provides.
The reality is that millions of children have overcome tremendous obstacles to be in school, and that's why Plan International is committed to provide innovative solutions to ensure students are able to continue their education – no matter the circumstance.
During the COVID-19 pandemic, we've implemented 3 different approaches that have helped students continue their education during this time. Learn more about our creative education solutions and see how they're helping students across the globe.
25,000 solar radios distributed
Like many other girls in Sierra Leone, 15-year-old Jeneba, hasn't been to school since March this year. This is when the first COVID-19 case was confirmed in the West African nation.
Jeneba should be able to take part in the government's remote education system: a radio teaching and learning program designed to ensure children still have access to the syllabus, despite schools being closed. This radio broadcast was first introduced during the 2014 Ebola epidemic.
But, because she doesn't have a radio, Jeneba has struggled with consistent access to remote education. "I have to always go over to my cousins to listen to the radio teaching," Jeneba says.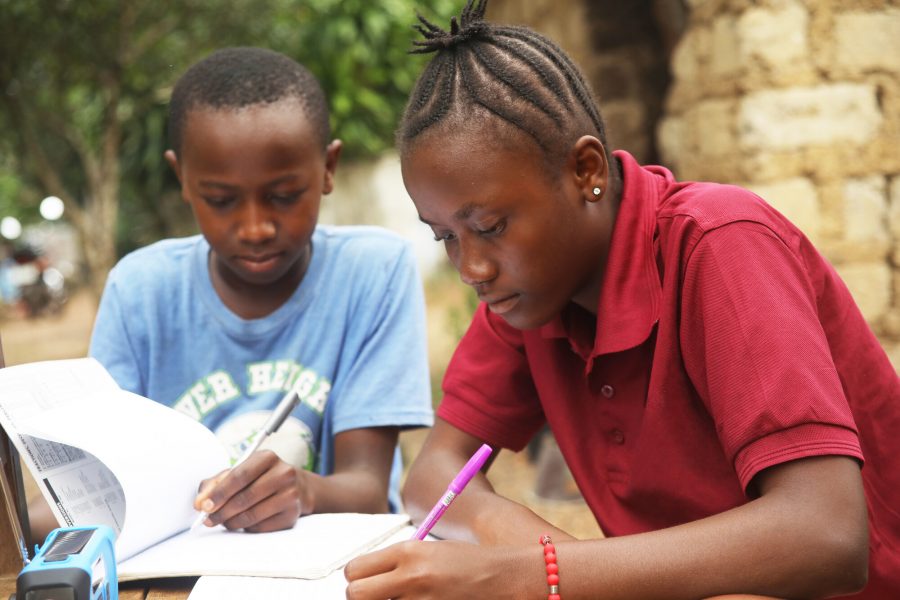 Plan International carried out an assessment which revealed that the majority of the households in Jeneba's community can't afford a radio, and when they do have one, girls don't have access to it. So, in partnership with Lifeline Energy, a non-profit that manufactures solar-powered radios across the world, Plan International procured 25,000 solar radio sets for girls.
Jeneba was one of the first to receive a set. "When I finally got the radio, I held onto it and whispered to myself that I will not miss out again," she says.
"We're so happy with the teaching; it feels like the teacher is right in front us."
Mobile solutions bring remote education
Accelerated learning is a vital component of Plan International's education programming as it enables children who might've never been to school to catch up on their education so that they're not left behind.
Up until COVID-19 forced weekly classes to be cancelled, our accelerated learning in Zimbabwe had been helping girls like Yollanda, 12.
"I used to go to class every Monday and Tuesday, where we learned as a group and I had the chance to speak with my friends. The lockdown has affected me because am no longer going to school where I was learning how to read and write," explains Yollanda.
To help Yollanda and others like her, we moved quickly to adjust the programming to provide remote mobile phone support. We also worked with 164 community educators to prepare them for remote teaching.
"Plan International provided us with airtime to enable us to communicate with the girls to assist them with their studies through phone calls, text messages and WhatsApp," says Bertina, one of the community educators.
"We have also been trained on how to support children emotionally during this difficult period as well as receiving training on how to handle cases where children disclose abuse."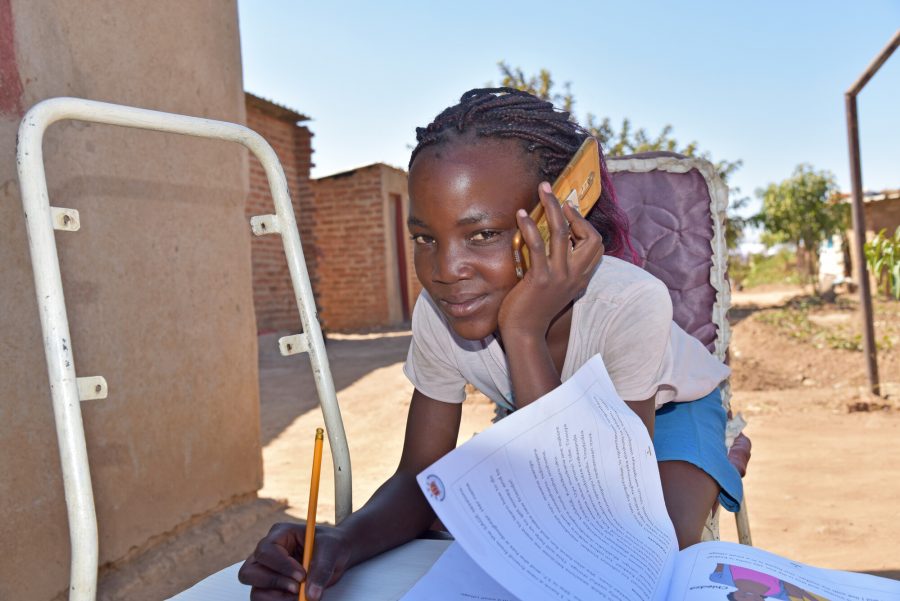 Yollanda is grateful for the support she is receiving from the community educators who not only teach a regular curriculum, but also teach the young students about coronavirus awareness and prevention. Yollanda passes on the information she learns to her family and friends to help them avoid catching and spreading the disease.
"My teacher has taught me, over the phone, what to do to prevent COVID-19," she says.
10,600 students receive home learning kits
To support students' home learning during the lockdowns in Rhino and Bidibidi refugee settlements in Uganda, Plan International with the support of the Ministry of Education, has distributed sets of home learning materials to 10,600 students.
The home learning packs have been developed based on guidelines provided by the Ministry of Education to ensure the students continue to cover the curriculum from the point at which the schools closed.
To ensure that all students receive the self-study materials, Plan International staff and volunteers are distributing them door-to-door, working in collaboration with parents, teachers, students and other community leaders.
"As the children are studying at home, we encourage their families to support their learning. Caregivers are asked to check in on their children to ensure they are getting on well with their studies and homework," explains Jessica Ilomu, Education Program Manager for Plan International Uganda.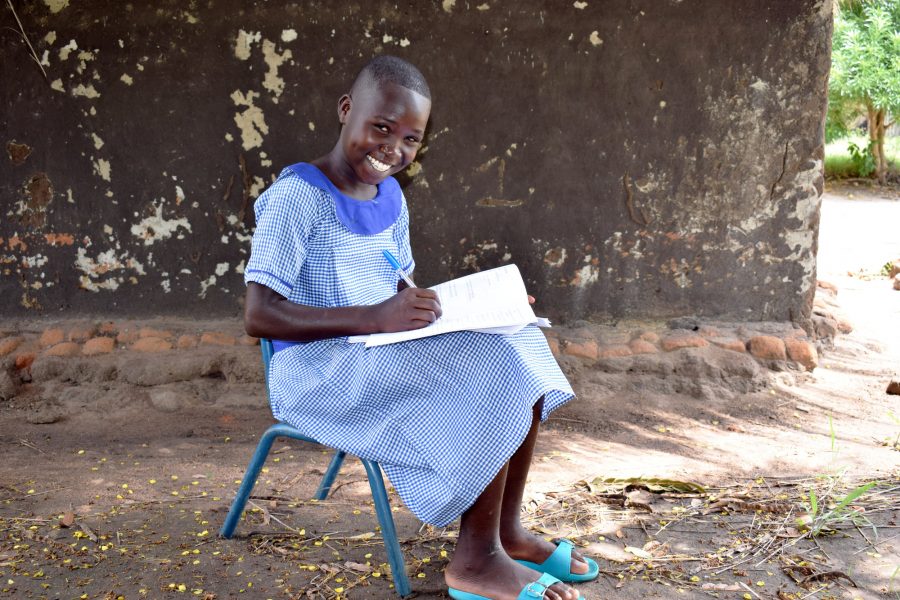 Zillian,15, is excited about receiving the home learning kit as she dreams of becoming a teacher.
"The book is easy to handle since all the four subjects have been put together to make one document. My best subjects are social studies and mathematics," she says.
Stopping the setback
Education is every child's right, and yet millions of children may never continue their education because of the disruption caused by COVID-19. Girls are especially vulnerable as UNESCO estimates 11 million girls may never return to school.
But it doesn't have to be this way. As one of the leading organizations in Canada advocating for children's rights and equality for girls, we know there is a solution within reach. Standing with and investing in girls is a powerful solution and response to this crisis.
Together, we can and must stop the setback.
Questions related to this story:
Join our mailing list to receive updates
By signing up you agree to receive our emails.