Placeholder for mobile shadow
Justice on the frontlines of the climate crisis
It was the rallying cry of determined young climate justice activists gathered at COP27 in Egypt and beyond: "loss and damage finance – now!"
In the final hours of COP27, the global community rallied to establish a loss and damage fund that will advance climate justice for those living on the frontlines of a changing climate.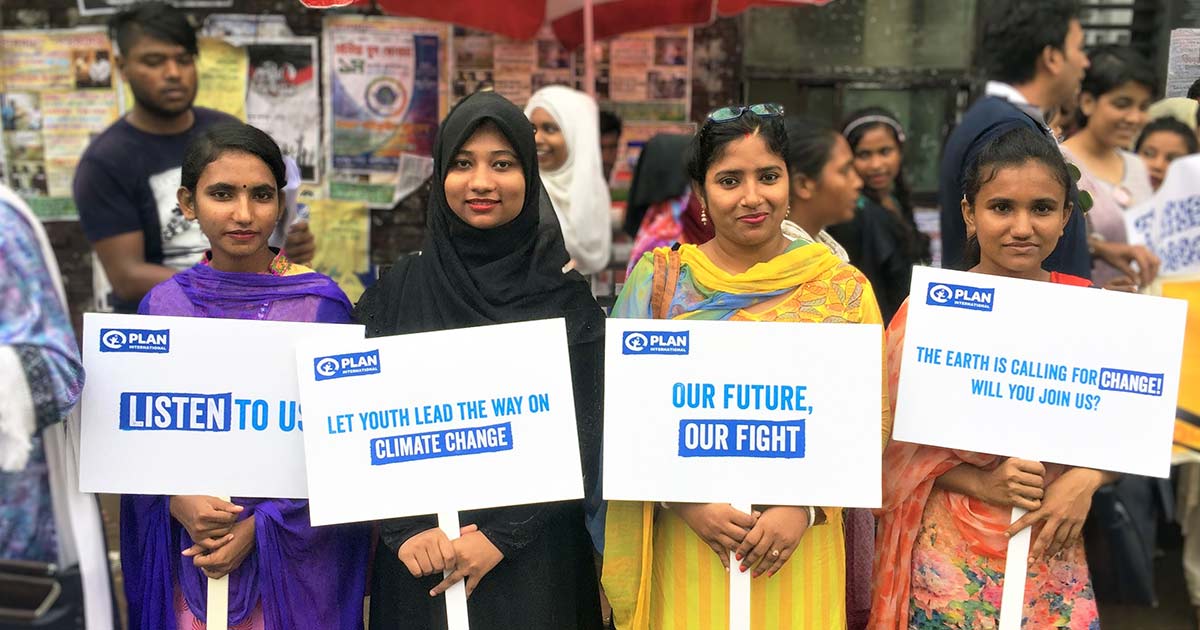 "With hope, I read and see that now the world really listens to us," says climate justice advocate Ineza Umuhoza Grace, the lead author of , a Plan International brief which shines a light on youth voices on loss and damage.
Plan International Canada welcomes this historic moment. It is the result of decades of advocacy by affected communities, including strong voices from youth climate justice activists. We applaud the efforts of countries, civil society and young people who have continued to push for intergenerational climate justice for people and communities most affected by loss and damage due to extreme weather events.
Yet, as Ineza Grace recently wrote in a joint editorial for The National Observer with Anjum Sultana, Director of Youth Leadership & Policy Advocacy at Plan International Canada, establishing this funding mechanism is not enough.
"Funding must reach the most vulnerable: those in the global south who will inevitably experience climate injustice," they wrote. "In that spirit, countries must commit to localizing their efforts in climate-affected countries and communities, engaging girls in particular in the design, monitoring, and implementation of any new initiative."
The new fund must also explicitly acknowledge youth as agents of change, including in the design and implementation of climate policies and action – this is an important step forward in recognizing youth right to participate in decisions that most affect their future and wellbeing.
COP27 outcomes also encouraged all countries to include young people as representatives in their national delegations, and to build off the energy and ideas from the first ever Children and Youth Pavilion led by child and youth movements, providing a lively and dynamic space. Parties also agreed, through a new Action for Climate Empowerment Action Plan, to enhance children's climate education and empowerment.
Based on a landmark United Nations General Assembly resolution earlier this year, COP27 is also the first environmental negotiation process to include an explicit reference to a human's right to a clean, healthy, sustainable environment, supporting efforts to mainstream rights in climate and environmental processes, such as the forthcoming United Nations Committee on the Rights of the Child.
There is much work ahead for the global community, however – children's futures remain at risk from the continued burning of fossil fuels and the window of action to stay below 1.5 degrees is closing. The lack of ambition on mitigation and rapid and equitable phase-out of fossil fuels will continue to negatively impact children's lives now and into the future, demanding more urgent action.
Further, girls' and young women's rights must be protected, and their voices must be heard in climate decision-making spaces. Yet, despite clear research highlighting the significant and disproportionate impact of the climate crisis on girls and young women, and their contributions to addressing the crisis, gender was once again deprioritized and politicized during COP27.
To learn more:
Join our mailing list to receive updates
By signing up you agree to receive our emails.