Placeholder for mobile shadow
​girls-belong-here

October 11 was declared International Day of the Girl Child by the UN in 2011 following a campaign led by Plan International Canada. The success of this campaign was the result of tens of thousands of petitions signed and letters sent to MPs by supporters across Canada as well as support from the Canadian government.

Each year, International Day of the Girl is an opportunity for the whole world to come together to champion and advocate for girls' rights around the world. Plan International Canada is highlighting the importance of access to critical information and leadership opportunities for girls and young women. With the pandemic setting back years of progress toward equality, we must ensure that girls can realize their rights and lead on decisions that shape their lives.
International Day of the Girl 2021
In 2021, Plan International Canada continued our flagship Girls Belong Here program virtually. Young women stepped into senior executive roles and shared their voices at organizations across Canada. New Innovation Hubs brought together youth ambassadors and business leaders to discuss business challenges. And we encouraged girls to take the mic and speak to engaged leaders who seek equality and justice for girls within their own organizations – and beyond.
International Day of the Girl 2020
In 2020, Plan International Canada highlighted the power and leadership potential of girls and young women through virtual seat shares all over Canada. Due to the pandemic the Girls Belong Here program went virtual for the first time and was designed to provide more space for youth ambassadors to share their voices, stories, ideas and solutions with leaders and organizations.
International Day of the Girl 2019
In 2019, Plan International Canada brought together special guests – including youth ambassadors, Celebrated Ambassadors and social influencers – to play a retro-style game show challenging Canadians to be able to tell fact from fiction when it comes to girls' rights and equality.
State of the World's Girls Reports
Plan International surveyed 26,000 girls and young women in 26 countries around the world, ages 15 to 24. The report found that exposure to lies and mistruths are having a profound impact on how they engage with issues ranging from COVID-19 to politics.
Sponsored by IBM Canada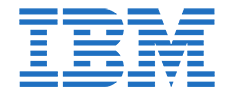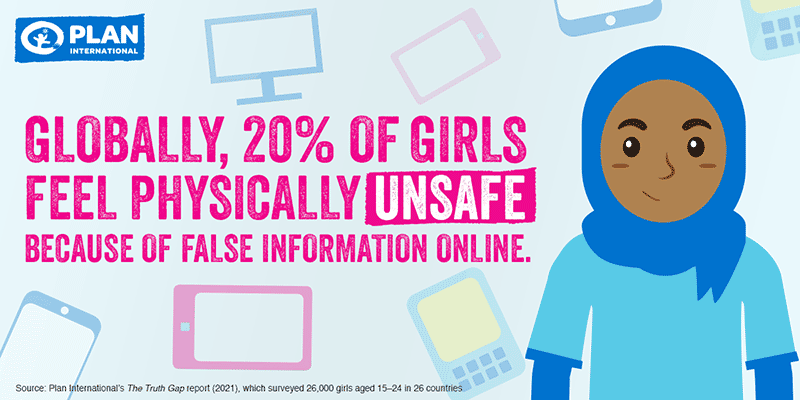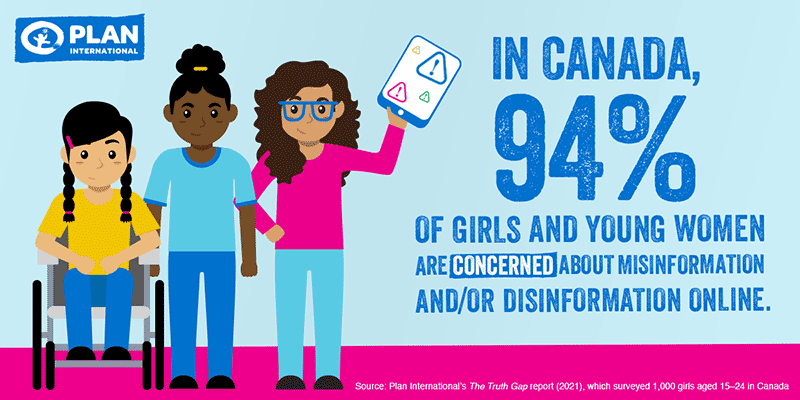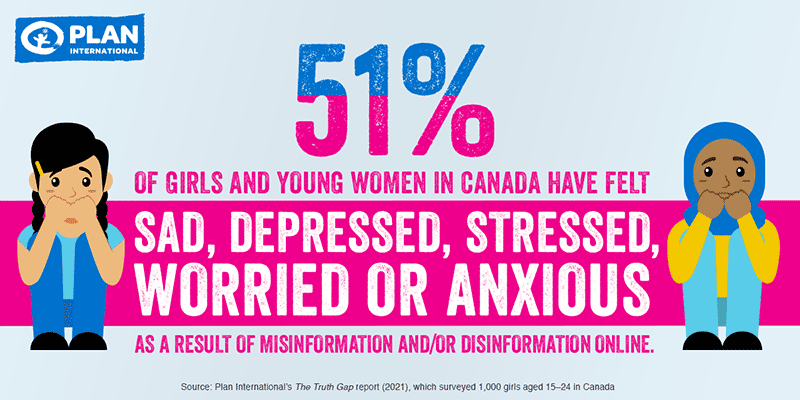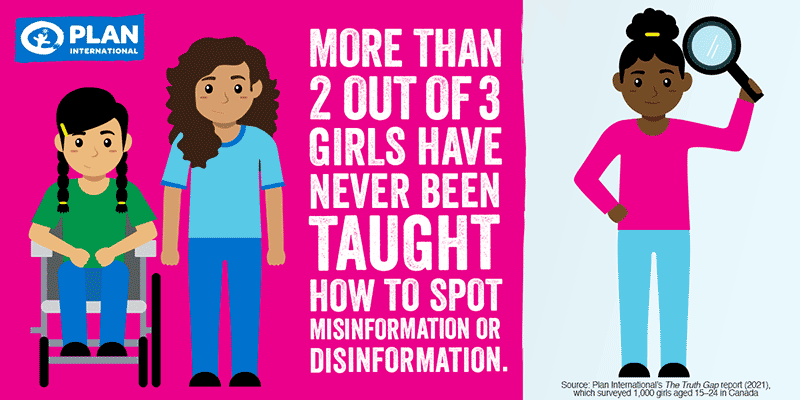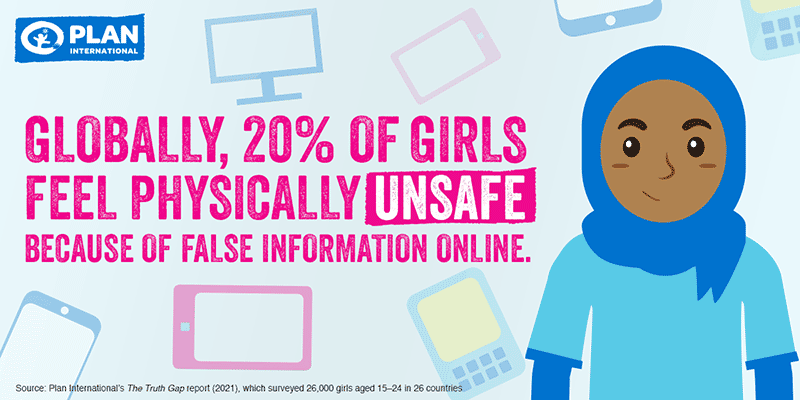 State of the World's Girls Reports
Plan International spoke to 14,000 girls in 22 countries around the world, ages 15 to 24, and more than half have been harassed and abused on social media. The most common negative effects of online harassment are lower self-esteem, loss of confidence, mental or emotional stress and problems at school.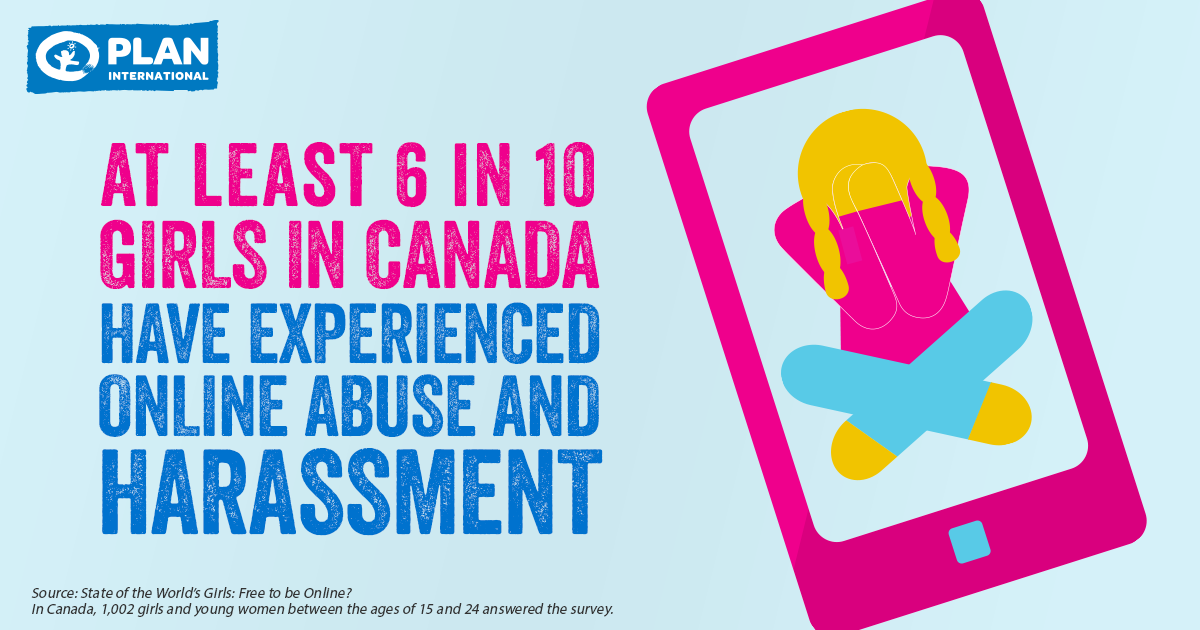 Gender Equality: Female And Male Perspectives In Canada
A 2019 national survey of 1000 women and girls (ages 14-24) and 1,000 men and boys (ages 14-24) conducted by Plan International Canada has shed light on the barriers to leadership and existing misconceptions.
Girls Belong Here:
Empowering Future Leaders
Plan International Canada's Girls Belong Here program is part of a global movement to amplify girls' voices, advocate for their rights and elevate their position in society.

Since 2016, Girls Belong Here has created opportunities for young women to step into high-profile professional roles for a day to demonstrate that women belong at all levels of leadership and that they have a right to equal opportunity in all sectors.

The program typically takes place in September and October in the lead-up to International Day of the Girl.

​
Join our mailing list to receive updates
By signing up you agree to receive our emails.